Spring has finally arrived, the clocks have changed and we get a little more sunlight in our day!
So while the weathers on our side, why not make some home improvements? Sunny weekends are perfect for DIY and with our next day delivery – we don't need much warning!
Whether it's getting outside and cleaning your gutters or repainting your old wooden fascias, every little helps when improving the look of your home. Wooden fascias were all the rage in the past, but with the time consuming upkeep and the cost of annually repainting, more and more people are swapping to uPVC.
Not only are uPVC fascias easier to maintain, they offer superior coverage compared to their wooden counterpart due to their thermal efficiency and durability. Wooden fascias are prone to rotting and warping due to moisture and need to be regularly repainted to keep them looking new. All uPVC fascias and soffits need, is a quick wipe with a damp cloth to keep them looking like new. They protect against the elements, they're easy to install and improve the overall look of the property.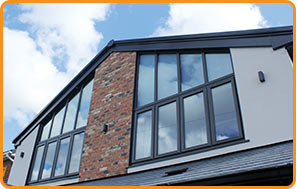 Here at Fascia Expert we offer a huge range of colours, whether you prefer a traditional looking white or black roofline or want to make a statement with chartwell green or Irish oak. Not forgetting our range of wood effect rooflines including light oak and rosewood fascias, we have something to suit every property and taste.
Grey is becoming an increasingly popular choice for domestic houses in the UK as homeowners look to add a contemporary feel to the exterior of their property whilst also keeping it maintenance free and easy to look after.
With uPVC windows and composite doors now widely available in grey, why not match it to grey fascias and soffits which are kept in huge stocks here at Fascia Expert. Our range of grey rooflines include a dark grey which matches RAL 7016 and slate grey which matches RAL 7015. Both these colours feature a smooth finish to match aluminium bi-folding doors and windows. We also stock what is called anthracite grey, this also matches RAL 7016 but features a subtle woodgrain embossing to match many grey windows and doors on the market. We're proud to offer the largest stocks and best trade prices available of grey rooflines of the web.
When ordering, don't forget to grab your colour match products, our Soudal sealants supply rivals our stock of fascia colours! Not to mention our selection of polytop pins, we have everything you need to get the job done.
If you're worried about taking on the job yourself, don't be! We have helpful hints and tips for the fitting of fascia and soffits and if there's anything you can't find, give us a call on 01254 918 005.