Anthracite Grey has become an increasingly popular colour with homeowners over the past few years. Whether that's a change of Fascias and Gutters or on new uPVC windows and composite doors – it's hard to miss the colour popping up all over the country.
FasciaExpert.co.uk offer a wide range of Anthracite Grey uPVC products from the industries leading manufacturers. All of our Homeline products, including Fascias, Soffits, Trims, Tudor Board and Cladding are RAL 7016. Whereas our uPVC FloPlast Gutters and Downpipes are RAL 7024. Both of these RAL colours match perfectly, giving you an attractive and seamless roofline.
FloPlast Guttering
All of our Guttering is manufactured by Floplast in high quality uPVC. Available in 6 colours, White, Black, Grey, Anthracite Grey, Caramel and Brown – plus Black Box Gutter and Cast Iron Style Gutter. We also stock a number of different profiles, Square, Half Round, High Capacity and Ogee, with the option of 2 downpipes, Square and Round.
We first introduced Anthracite Grey Guttering in 2015. Our High Capacity was the first system stocked at FasciaExpert.co.uk, quickly followed by the Ogee system.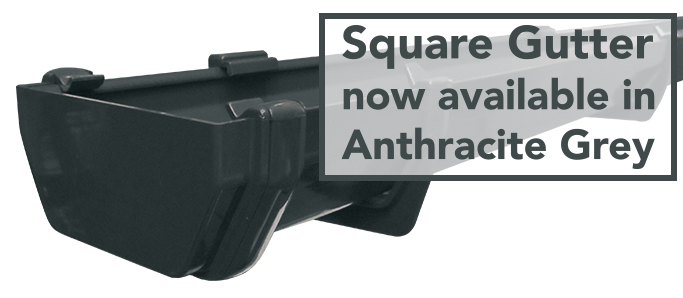 Anthracite Grey Square Gutter
This month we have introduced Floplast's Anthracite Grey Square Gutter. The Gutter features an attractive rectilinear profile with a more substantial flow capacity to the Half round gutter system.

Like all of Floplast's systems, the gutter has pre-fitted gutter seal retaining clips and pre-lubricated seals to ensure a quick and easy installation.

We don't only stock the Gutter and downpipe, but all the Angles, Outlets, Unions and Stop ends to complete your installation. We recommend paring the gutter with the FloPlast 65mm Square downpipe.
For more information on our uPVC gutter systems, or any of our other products, please give us a call on 01254 918005 or email us on customerservice@fasciaexpert.co.uk.