Here at FasciaExpert.co.uk, we believe in supplying you with the best products on the market, for the best prices possible. All our products are manufactured by the market leading brands including Homeline, FloPlast, Soudal, Easy-trim and Tapco.
Tapco Slate is becoming extremely popular in the UK and is the number one alternative to traditional slate roofing – and with the amount of benefits Tapco Slate has, it's not hard to see why. Perfect for conservatives, new builds or renovation projects, Tapco Slate has the appearance of traditional slate - a textured surface and riven edges, making it almost indistinguishable from natural slate, but with none of the negatives!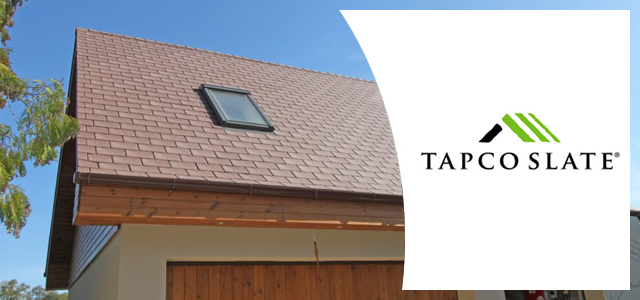 Easy Installation
Tapco Slate comes with pre-marked nailing and exposure guides embossed onto the slate itself, which leaves very little room for error. No special tools are required for the fitting of the 'slates', simply cut them using a fine tooth saw and attach using hammer and nails or a nail gun.
Colour Range
We stock five different colours of Tapco slate; Stone Black, Red Brick, Chestnut Brown, Pewter Grey and Plum - mimicking the colours of real slate roofs. Each slate has a Hip and Ridge available in matching colours to complete you installation to a professional standard.
Strength
Although they have a likeness to real slates, they are stronger and more durable, making the installation and upkeep much easier. The tiles are lightweight (80% lighter than real slate tiles), but still extremely strong. They are vigorously tested against harsh winds, class 4 hail, extreme temperatures and high levels of UV rays, ensuring you are getting only the very best. Also as they are manufactured from plastic (like many of our products at Fasciaexpert.co.uk), they will not break if dropped from a height, which typically happens during the installation.
Guarantee
Tapco Slate is BBA certified and comes with an incredible 50 year manufacturer guarantee.
Need help with the amount of Slates you need to order? Feel free to use our Measuring Service. If you need any further assistance, don't hesitate to contact us by our contact form, or by calling us on 01254 918005.