News
Its officially autumn, the leaves are falling and winter is just around the corner. Unfortunately gutters have a sneaky way of attracting leaves, twigs and other debris. Without realising, suddenly your gutters are blocked.
A blocked gutter doesn't seem like much, it's often at the bottom of your to-do list, but your gutter ensures the water flows from your roof towards the ground. When water has nowhere to go it begins to 'pond' and soak into your roof, wearing away at shingles, causing leaks and damaging brickwork and mortar.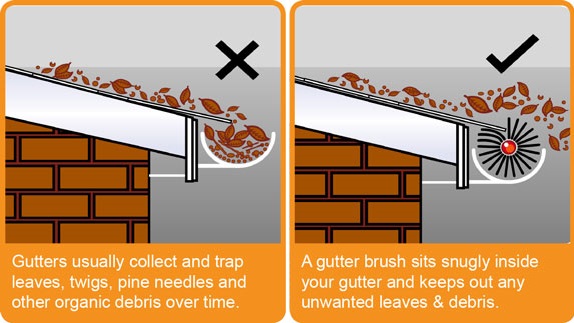 This year won't be the same, the FloPlast Gutter Brush is a low maintenance gutter filter that fits easily into any size or shape rainwater system, designed to keep it clear from any debris such as moss and leaves, whilst still allowing water to flow freely. Why climb a ladder in the torrential rain to clear your gutter, when there is a quick and easy alternative.
To set up the Gutter Brush, firstly remove any debris from the gutter and place the Gutter Brush into the gutter, ensuring it fits securely under the roof tiles. To clean your Gutter Brush, FloPlast recommend that the Gutter Brush is jet washed at least once a year. The FloPlast Gutter Brush suits all style of gutters, including White, Caramel, Square and Ogee.
To order your FloPlast Gutter Brush click here.