Introducing Chartwell Green Cladding!
It's no secret that Chartwell Green doors and windows are becoming increasingly popular, you only need to take a look around on your way home from work to see the increasing number of homes choosing Chartwell Green – particularly if you are travelling through the countryside where Chartwell Green helps so many homes achieve the 'county-chic' look that is so popular now.
At FasciaExpert.co.uk when we get feedback from customers – we listen! Just one of the queries we repeatedly received, particularly from those customers buying Chartwell Green Fascias and Soffits was 'do you do Chartwell Green Cladding' or 'where can I get cladding to match'. We spoke to our supplier, Homeline, and just a few months later we welcomed Chartwell Green Shiplap Cladding to our ever expanding product range.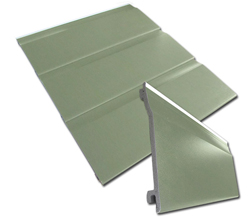 Manufactured to the same high standards
Manufactured to the same high standards as our other colour ranges of cladding, our Chartwell Green Shiplap Cladding is made using Heat Shield technology and a lead and tin free formulation. It comes with a hefty 10 year guarantee and has hidden fixing points to make installation even easier!
With colour matched trims and corners available, once installed the Chartwell Green Cladding looks stunning – particularly when teamed with light stone brickwork – whether you live in the city or countryside Chartwell Green can help you to achieve the 'country-chic' look.
Look no further
We stock everything you need to complete the installation of uPVC Cladding including cladding pins, colour matched silicone and of course a handsaw should the lengths need cutting down (this is a standard requirement with most installations). With competitive prices and a price match guarantee available if you find it cheaper elsewhere there really is no need to look any further!
If Chartwell Green isn't your style then why not take a look at our other cladding colours, we offer our range of uPVC Shiplap Cladding in over 15 colours including Anthracite Grey, Slate Grey, Black, Irish Oak and White – if you're unsure simply contact us on 01254 918 005 or customerservice@fasciaexpert.co.uk to request a free colour sample!