News
After how popular our Anthracite Grey Hi-Capacity guttering has been since it was launched in 2015, we thought it was only right that we extended the range further, so we introduce to you... Anthracite Grey Ogee Guttering (RAL 7024). As with all our guttering our Anthracite Grey Ogee Gutter is manufactured by FloPlast and comes with an extensive guarantee and easy installation gutter seal retaining clips, so whether you are a DIY-er or a professional fitter, you can get the job done quickly and easily.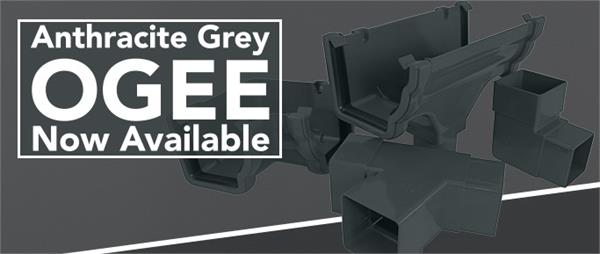 Stocking Ogee Guttering in a wide range of colours already, including Black, White and Brown, our Anthracite Grey is a great addition to an already popular guttering profile. Also known as Niagara Gutter, Ogee Guttering has a slightly more stylish design than the more common half round or square profile. The rippled effect at the front of Ogee lengths is perfect if you're looking to update your property with something a little different.

Designed to complement our range of Grey roofline products, our Ogee Anthracite Grey Guttering looks fantastic when paired with all of our grey fascias & soffits, including Slate Grey (RAL 7015), Dark Grey (RAL 7016 smooth) and of course Anthracite Grey (RAL 7016 grained).



Homeowners tend to choose the Anthracite Grey colour scheme for their homes as it adds an instant update to any property, with an overwhelming amount of matching products available on the market, such as a sleek and stylish Anthracite Grey Rockdoor available (find your local Rockdoor Installer today).

Transforming a property doesn't have to be expensive, a simple roofline update with a brand new composite door, can often be everything that a property needs to stand out from the rest.

If you need any further advice or assistance, don't hesitate to contact us! Fill in a contact form, email us at customerservice@fasciaexpert.co.uk or give us a call on 01254 918005, we're always happy to help!