With Grey becoming increasingly popular for uPVC Fascias, Soffits, Cladding and Trims, here at FasciaExpert.co.uk we decided to expand our range of already popular roofline products giving you, the homeowner more choice.
The new Grey products are available across 3 popular shades and styles of Grey, Anthracite Grey, Dark Grey and Slate Grey. Below is a little more about each to help you decide which is the right Grey for you…
Anthracite Grey:
RAL 7016, our range of Anthracite Grey products features a very subtle wood grain effect, many people use products from within the Anthracite range when looking to match to RAL 7016 door and window profiles.
Dark Grey:
The same RAL colour as the Anthracite Grey, our range of Dark Grey products feature a smooth finish perfect for those looking to match to RAL 7016 Aluminium doors, windows and bi-folding doors.
Slate Grey:
The same smooth texture as Dark Grey, our range of Slate Grey products are a slightly lighter shade of Grey (RAL 7015) than the Anthracite and Dark Grey. As with Dark Grey the smooth texture makes it perfect to match up to RAL 7015 smooth profiles including aluminium doors and windows.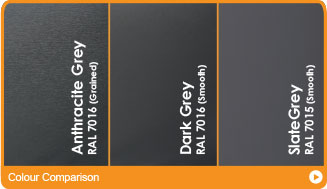 What is in the new extended range of Grey roofline products?
The new range of Grey products offers a range of uPVC fascias, soffits, cladding and trims in a range of different widths that unless stated otherwise are all provided as 5m lengths.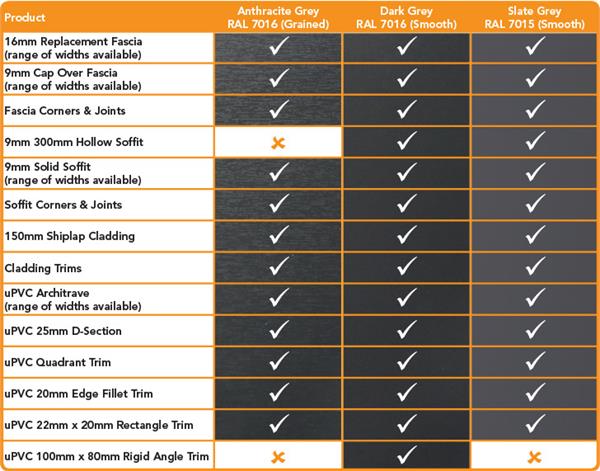 For more information regarding our range of Grey roofline products, simply contact us via our contact form or call us on 01254 918 005.