Here at FasciaExpert.co.uk, we have everything you need to complete your uPVC installation – a 'One stop shop' you could say.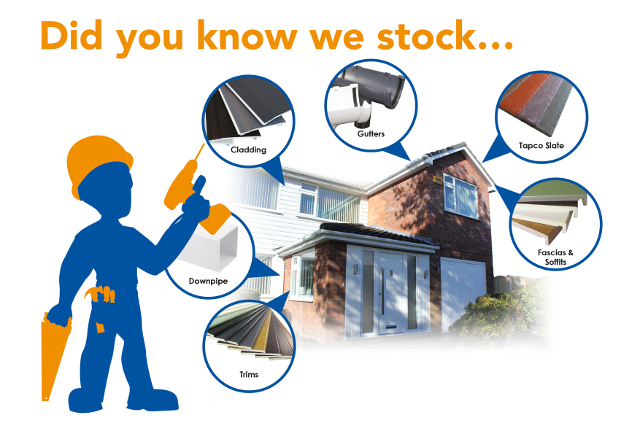 Fascia's & soffits –
Although we have a fantastic stock of uPVC Building products, clearly Fascia's are our thing – it's all in the name! We stock an incredible 15 different colour of Fascia Boards & Soffits, spanning six different styles, Square, Jumbo, Cap-over, Ogee, Bullnose and flat.
To complete the installation we also have Joints and Corners, Trims and End Caps, plus Soudal Silicone and plastics headed pins & nails to match.
Trims (Windows & Doors) –
You've got the brand new composite door and uPVC windows on order, what about trims? We have all the trims you need for a neat and tidy finish. Again, supplied in 15 different colours to make sure they co-ordinate with your fascia boards, we have everything from Quadrant trims and D-sections, to Fillet and Angle trims. Finish off your order with Soudal Silirub to match the colour of your installation.
Cladding –
We supply Open-V Cladding, Shiplap Cladding and Double Embossed Shiplap Cladding. Our embossed cladding features a subtle wood grain effect, whereas our other cladding ranges are smooth. Our uPVC Cladding provides a realistic, maintenance free alternative to timber cladding. Finish off by adding our Cladding pins to your order.
Gutters and Downpipes –
We have a wide selection of Gutters and Downpipes, all manufactured by industry leading brand, Floplast. Our Gutters come in 7 different colours, the classic Black, White and Brown, Cast Iron style, Caramel and then the two contemporary colours, Grey and Anthracite Grey. Our colour range covers a number of different profiles – Square, Half-round, Ogee and Hi-cap. Our Downpipes come in Square and Round, and suit our Gutters perfectly. Of course, we stock all the adaptors, brackets, angles and ends you need – plus screws, lubricant and a uPVC saw!
Roofing –
We stock five different colours of Tapco Slate – Pewter Grey, Chestnut Brown, Red Brick, Plum and Stone Black. Tapco Slate is a low maintenance and easy to install alternative to traditional slate tiles.
We also supply the colour corresponding hip and ridge slates, to join the Tapco Slate at the peak of the roof. Using our 4mm star screws at the pre-marked guides, the installation could not be easier!
Not forgetting, we also have a list of fitting instructions to help with all of your installations. Simply click here and get all the assistance you need. If you do need anything further don't hesitate to give us a call on 01254 918005.